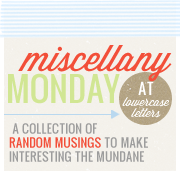 Hi Everyone,
I have a few new followers so that's pretty cool! Definately excited about that!! Spread the word about my blog! I'm up to 21 now and I'd love to have more! :) I promised to do a better job of update.. eh what am I saying, I always say that and somehow end up updating only once a week. Promise I'll do better! If any of you have suggestions on what you'd like to see from me on the blog feel free to let me know! You can ask questions, give suggestions.. anything really!
Moving on...
Well FALL has OFFICIALLY begun according to the calendar.. not so much according to the weather. Last week in the midlands it rained, and rained and rained & then rained some more. Seriously I was unaware that we had a "rainy season," although this past week has proven otherwise! I just knew at any minute Noah and his Ark were going to go floating by... seriously, it was THAT bad! Torrential down pours! In the mean time, while it was raining and I was living life not needing sunglasses, they broke. In my purse. Snapped right in half (the arm band) the part made out of plastic. Yes, these are indeed the same sunglasses I lost in TJ Maxx (ironically the store I bought them from) and then found, and was overjoyed, only to have them break a month and 1/2 later. Awesome. I tried to have them repaired... no such luck yet. :(
Since fall has finally graced us with it's presence... sorta, I made and put up my fall wreath! It turned out SO stinking cute! I have to admit, I kinda got the idea of using the different ribbons & the halloween ball ornaments from my BIG sis and good friend over at
Grits and Giggles
. Her halloween wreath looks amazing, & so does everyother crafty thing she gets her hands on! I'm a little jealous! :) Anywho! Here is my version! :)
I got most of the supplies at Michael's, the Dollar Store, Hancock Fabrics, & the candy corn accent came from Carolina Pottery last year. I had TOTALLY forgotton I even had the thing, found it and got all excited!
Besides decorating for fall I've been enjoying some football!! First off I just have to say how very proud I am of my CLEMSON tigers!! Such great wins the past 2 games! Up next VA Tech, I hope we beat them too!
Last Friday night I took in some Friday night lights at my high school!! So much fun! I always love going back but this season we have the best team we've had since I was a freshman.. that would be oh, 2001. Yep, we beat our rival for the first time in 11 years a couple weeks ago on their turf! What a sweet victory! I wasn't able to go to that game, but I wanted to see our boys in action, so I went Friday night! We won, can't remember the score, but the last quarter was unbelieveable! GO WILDCATS!!
Now, we've covered that I'm a Clemson fan, I was born and raised a Tiger... See?
Well.. this past weekend I went to my 3rd USC game EVER! A friend from work invited me to tailgate and go to the game for FREE! Couldn't really turn that down! Atleast I looked cute! But I need tickets to the Oct. 8 Clemson vs. Boston College game to redeem myself! If you know if any, please let me know!
Dress $6.49 from Ross, flower from Michael's, tie was made by me! :)
Me & Lisa! So much fun!
That's pretty much all of the "news" I have! Next weekend I'll be changing my closet from Summer to Autumn, and may do a blog post on cute outfits I want to put together this season with ideas I've gotten from Blogs, Pinterest, other people etc. Hope you have a great week!