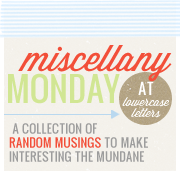 Hi All,
I'm sorry I have been MIA for the past week, and this week is looking like more of the same.
Last week I was at the beach from Friday until Tuesday, and getting back in the swing of things prooved to be a bit difficult! My brain was still in vacation mode. :) Several more important things kept getting in the way of blogging last week.
So here is an update with a few things going on in my life.
As of last week I have officially decided to go back to school and get my Masters. I am in the application process and submitting things here and there, with everything having to be turned in by the end of October to be accepted to fall 2012 classes. I bought my study guide yesterday for the Miller's Analogies Test (MAT) & need to get signed up to take it soon! Little nervous about that, but admissions said a lot of weight was put into my essay. I know I can write better than I test, so hopefully everything will go through! I will come out in August 2013 with an M.A. in Organizational Change and Leadership from Columbia College. I'm very excited about this, and what I will be able to do with it in my current job and possibly start the processes of moving up in the company! :)
I was actually at HOME this weekend for the first time in 2 weeks and I'll be gone again the next 2 weekends. CRAZY busy here lately, which is good, otherwise I'd be sitting around twittling my thumbs waiting on fall to get here! :) I will be in Greenville this weekend for my cousins wedding, should be fun to see that side of the family which we normally only see around Christmas, and his bride is a beautiful girl so I can't wait to see her! Labor Day weekend I'll be BACK in Myrtle.. that'll be the last time for a while! :( What can I say, the salty air and shore do wonderful things for my soul!
Since I was home this weekend I went out and met up downtown with a few people. Heather went with me and so of course I can't post about this weekend without posting a pic of me and my beautiful "sister."

Flying Saucer
 This week seems to be busy already and its not even noon on Monday! eeesh! Tonight, I need to clean my nasty house! :) I've been gone... I don't know how it could get that messy! ;) Tomorrow I have to take Miley to the vet :( poor baby has something wrong with her ear and eye and she's in heat. Yuck! Hopefully some antibiotics will fix the ear/eye issue. She doesn't seem to be bothered by it, but I am.
Wednesday I'm going to get the hair did... blonde or brown?? Here are a few pics I've found on Pinterest of hair that I like and considering.
Any suggestions or thoughts are welcomed! :) But I will be darker than I currently am.. can't help but to tone things down a bit since we are heading into fall/winter. Not to mention my wallet will appreciate the less maintenance!
I will try to do a better job and blogging this week but no promises! :) Have a wonderful Monday everyone!